Discover the passion, elegance, and style of Argentine Tango with world renowned artists and master teachers Celina Rotundo & Hugo Patyn. Offering a full curriculum from beginning technique to the highest levels of performance. The classes will focus on balance, coordination, musicality and individual interpretation with a partner. Walking, rhythm, posture, and traditional figures are part of this program with emphasis on embrace and a beautiful dance experience. Appropriate for beginners to advanced dancers.
INTRODUCTION TO TANGO - BEGINNERS
Day: Monday
Time: 8:00 to 9:30pm
Monthly Fee: $80
Place: Dallas Can Dance The Academy
Address: 2650 Midway Rd #130, Carrollton TX 75006
These Classes are for all those people who are starting for the first time in Argentine Tango.
This program will learn the first and fundamental movements to be able to dance socially.
Walks, Eights, Cruzada (cross) and La Cunita (rock step) are some of the movements that you will learn.
It is not necessary to have a partner and there will be constant rotations.
FROM THE SOUL - INTER/ADV
Day: Thursday
Time: 7 to 8:30pm
Monthly Fee: $80
Place: Dallas Can Dance The Academy
Address: 2650 Midway Rd #130, Carrollton TX 75006
This class is focused on all Argentine Tango dancers with experience in social dance (you must know basic exit, eights, basic turn and cut eight), it does not matter if you consider that your dance is different, here you will learn to dance from your heart and your soul, connecting not only with your partner but with yourself, from this construction your last great change will begin!
It doesn't matter if you have much experience! You don't need a partner. These classes are perfect for you if you dream of learning to dance Social Tango. To dance with your partner, or go to the milonga and melt in each hug following the mark, or marking the compass… In these classes we teach both roles all the secrets to connect with anyone and enjoy the best musical tandas. Because for tango it is enough to embrace and walk, we have all the tools to help you achieve it. Make fantastic the simple and simple the complex… the tango has these magic tricks and with us you can discover them all. The Argentine Tango heals, relieves, and gives happiness. Dance does well… so we dance?
TANGO TECHNIQUE AND TRAINING FOR BOTH ROLES
Day: Thursday
Time: 6 to 7 pm
Monthly Fee: $60
Place: Dallas Can Dance The Academy
Address: 2650 Midway Rd #130, Carrollton TX 75006
These Techniques classes are specially designed to train and understand the different possibilities that our body offers us, to know ourselves and learn from our virtues and develop them to achieve the objective.
Training will lead us to be better and more confident in our dance.
STAGE TANGO GROUP (virtual option available)
Day: Thursday
Time: 8:30 to 10pm
Monthly Fee: $100 (per person)
Place: Dallas Can Dance The Academy
Address: 2650 Midway Rd #130, Carrollton TX 75006
This program is developed for training, analysis and choreographic preparation for individuals, couples and with the whole group with projection to the stage.
The idea of the scenic projection, the formation, and the qualification not only of the choreographic but from the artist that each one carries inside, the expression, the feelings and connecting our whole body from the soul.
Dancing is such a profound expression that it cannot be expressed in words, so this group will learn to be able to carry out that expression.
Couples must be made up for registration and cannot register if they do not have it.
REGISTRATION ONLY BY REQUEST AND COUPLES!!! make your request at
VIRTUAL SOCIAL TANGO CLASSES
Don't you live in the Dallas area? Don't worry, keep studying with us and growing in your Tango!
Here we will continue with you as we did for more than a year on Facebook.
8/9 hours of class per month
Better image and sound quality
Direct and more specific instruction
Corrections and instant feedback
Live classes via Zoom
Recording of classes sent automatically at the end.
Start of classes August 2021
Instruction in English and Spanish
The program that we propose is 3 months of work registering from our Virtual Studio, the classes will be on:
• Tuesday at 7:30 p.m. CT.
• Saturdays at 2 p.m. CT.
REGISTRATION:
The monthly cost will be $70 per person and those who are in pairs is $120, here are the links of both memberships and now you can reserve your space!
VIRTUAL TANGO FITNESS
Physical preparation classes and weekly training: Tango Fitness. 2 times a week, you can follow these practices without leaving home. A training designed by Celina Rotundo for the integral formation of the Tango dancer. Combine Pilates, yoga, fitness, and biomechanics techniques applied in simple exercises to work and strengthen each part of your body. Effective and very fun body training classes. Because feeling good is very important, because we love our body, and we want to take care of it, we will show you a simple way to train with short and effective routines that will improve your performance when dancing socially or on stage. Because we know that everything adds to the student's progress, we offer you these 40 'online classes, 2 times a week.  Elements: Mat, Weights, Bands, Ankle Pads.
VIRTUAL TANGO STRETCHING
We know that stretching the muscles of the body is the secret of youth! And that's why we have stretching classes for you twice a week. TANGO STRETCHING: these are 40′ online meetings in which you pamper your body. Expanding the personal possibilities of movement, you will be taking care of your most important tool. It's only 40 minutes, where you will connect with your body in a different way. Especially designed for Tango dancers. Combine techniques of stretching and alignment of the body, biomechanics, breathing and hypopressive exercises, simple exercises, from home, so that you feel your body stronger, more flexible, and lighter. Element: Mat
PRIVATE CLASSES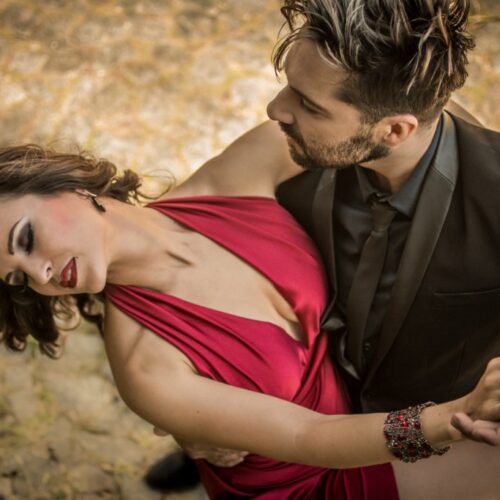 It is your moment to learn while enjoying the process. Find here the best way to learn Argentine Tango. Fun, Easy and faster.
Private classes are for one  individual or a couple and you have the option of doing them via Zoom or in person if you are in the Dallas, Texas area. Choose the best way for you.
In these classes you will be able to take your first steps in Tango, work your personal technique or that of your partner intensively and specifically, Musicality, Rhythm, Connection, you will be able to learn new movements so that your dance and go to the next level easily. Together we will overcome obstacles and you will get all the tools you need to enjoy your personal dance and as a couple.
The days and times will be coordinated personally, according to your comfort, with the teacher. You can enjoy the beneficial packages that we have for you. Individual classes via Zoom or Face to Face, packages of 4 or 10 classes with great discounts, or the fantastic PRIVATE MEMBERSHIP that we have starting this month, with an incredible price!
VIP SOCIAL - VIP SPECIAL & VIP PREMIUM INFORMATION
Enroll NOW!! remember that if your idea is to take more than one class you can get a BIG DISCOUNT using the VIP PREMIUM, VIP SPECIAL or VIP SOCIAL
PREMIUM VIP MEMBERSHIP
+ TEAM GROUP (LEADERS OF FEMME GROUP)
+ STAGE TANGO GROUP
+ SOCIAL TANGO CLASSES (THURSDAY CLASS 7PM AND TUESDAY 8:30PM)
+ TECHNIQUE AND TRAINING CLASS (WEDNESDAY 7PM)
+ MILONGA EVENT
+ WORKSHOP EVENT
+FITNESS CLASSES (virtual)
+STRETCHING CLASSES (virtual)
VIP SPECIAL MEMBERSHIP
+TANGO TEAM
+SOCIAL TANGO CLASS
+TECHNIQUE AND TRAINING CLASS
+MILONGA EVENT
+WORKSHOP EVENT
+FITNESS CLASSES (virtual)
+STRETCHING CLASSES (virtual)
SOCIAL VIP MEMBERSHIP
+SOCIAL TANGO CLASS
+TECHNIQUE AND TRAINING CLASS
+MILONGA EVENT
+WORKSHOP EVENT
+FITNESS CLASSES (virtual)
+STRETCHING CLASSES (virtual)