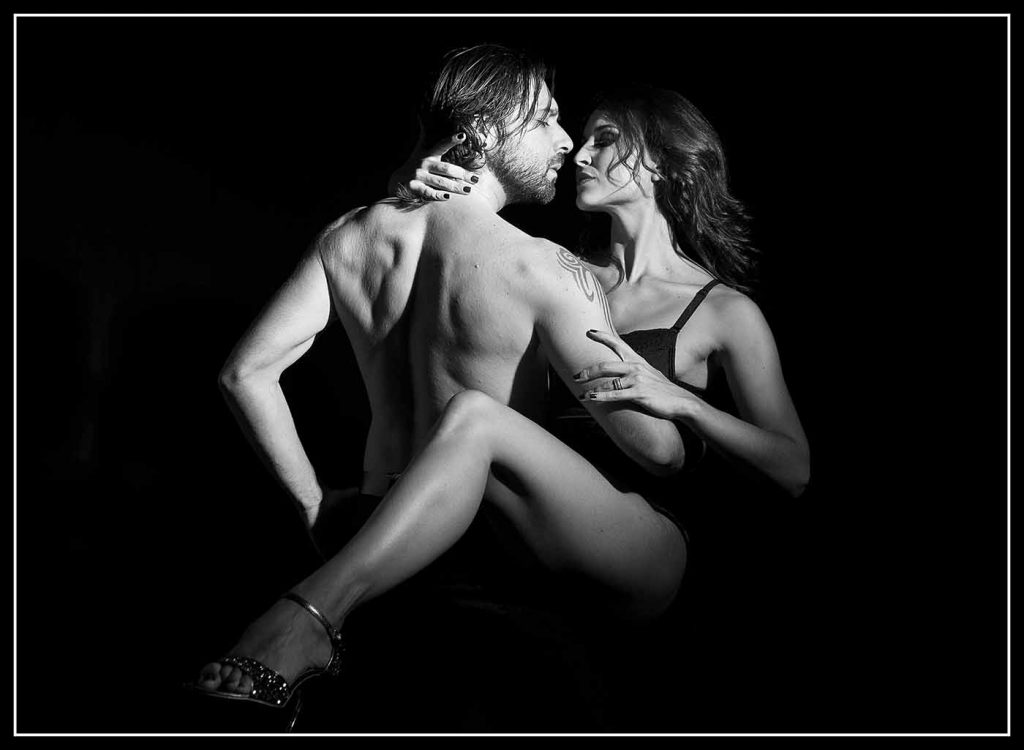 Celina Rotundo and Hugo Patyn are Argentine Tango dancers, masters, and choreographers who dazzle the world, both on stage and in every class or workshop they teach.
They possess an especially particular connection and style, making them first class dancers with an extensive dance background. They have danced in diverse places of the world, presenting challenging, intense and sensual choreographies with history. As instructors, they have initiated and inspired hundreds of students around the world.
With a career of more than 20 years, they have danced, choreographed and directed several shows including
; "TANGO​ ​AND​ ​FIRE",​ ​"TANGO​ ​BUENOS​ ​AIRES",​ ​"EMPORIO​ ​TANGO",  "CABARET​ ​TANGO",​ ​"TANGO​ ​JOVEN",​ ​"SUPER​ ​TANGO",​ ​"EVOLUTION​ ​TANGO",  "FOREVER​ ​TANGO",​ ​"LAUGH AND ​TANGO,​ ​"FOLLIES​ ​BERGERE",​ ​"ALMA​ ​DE​ ​TANGO",  "TANGO​ ​ESPIRITU​ ​III",​ ​"PASION​ ​DE​ ​TANGO",​ ​"EL​ ​CORAZON​ ​DEL​ ​TANGO",​ ​"TANGO  DREAMS",​ ​"FUSION​ ​TANGO",​ ​"I​ ​TANGO",​ ​"BIEN​ ​ARGENTINO",​ ​"MILONGUERA",​ "TANGO CALIENTE", "SPIRIT OF SPAIN", "LETS DANCE", ​which have​ ​been​ ​presented​ ​in​ ​different​ ​places​ ​of​ ​the​ ​world​ ​such​ ​as​ ​the​ ​United​ ​States,​ ​Canada, Greece,​ ​Taiwan,​ ​Israel,​ ​Japan,​ ​Peru,​ Guatemala, ​Spain,​ ​Italy​ ​,​ ​Bermuda,​ ​Chile,​ ​Indonesia,​ ​Korea,​ ​and Portugal,​ ​among​ ​others.
Celina and Hugo also they were invited to dance with the most prestigious Tango Orchestras like; COLOR TANGO, LA JUAN D'ARIENZO, AMORES TANGOS, TANGO BARDO, LOS SOLISTAS DE D'ARIENZO, VICEVERSA, PABLO MOTTA ORCHESTRA, LISANDRO ADROVER ORCHESTRA, PABLO VALLEJOS QUINTET, among others.
They teach classes and intensive seminars in different places of Argentina and the world. Some of which have been: CITA 2010, MYSTERY TANGO, TANGO FESTIVAL OF MAR DEL PLATA, TANGO FESTIVAL IN MALAGA, NORAS TANGO WEEK, DAY OF TANGO FESTIVAL, FANDANGO DALLAS, NOLA TANGO FESTIVAL. etc… They have traveled on their annual tours in different cities helping initiate new communities and collaborating in the evolution of Argentine Tango.
Both have had extensive artistic training from an early age in Ballet, Argentine Folklore, Music, Flamenco and Figure Skating. When Tango finally entered their lives, they had the influence of great mentors such as Osvaldo Zotto, Gloria & Eduardo Arquimbau, Nito & Elba and Pedro Monteleone, among others.
They lead an Argentine Tango Company that has participated in grand events in several places around the globe, receiving the best ratings after each presentation. With its own character and of an incomparable aesthetic, the Company recreates fantastic scenes and moments of the Argentine Tango. With fantastic costumes and unique skills, they embody musicality, and choreographies that cause the audience to fall in love with each presentation.
Their Company has appeared in various shows in the world such as
2009,​ ​10 EMPORIO​ ​TANGO​ ​-​ ​MEXICO​ ​&​ ​ARGENTINA
2010 MORA​ ​GODOY​ ​TANGO​ ​SHOW​ ​-​ ​CHINA
2010 CITA – BUENOS AIRES ARGENTINA
2011,​ ​12,​ ​13 CABARET​ ​TANGO​ ​-​ ​ARGENTINA
2011 EVOLUTION​ ​TANGO​ ​-​ ​USA
2012 EVOLUTION​ ​TANGO​ ​-​ ​USA​ ​&​ ​GUATEMALA
2012,​ ​13 1ST.​ ​TANGO​ ​ARGENTINE​ ​CAMPANA​ ​FESTIVAL​ ​-​ ​ARGENTINA
2013 BLACK​ ​AND​ ​WHITE​ ​BALL​ ​-​ ​DALLAS​ ​USA
2013 FROM​ ​PARIS​ ​TO​ ​BUENOS​ ​AIRES​ ​-​ ​ARGENTINA
2013 ENTRE​ ​BORGES​ ​&​ ​PIAZZOLLA​ ​-​ ​ARGENTINA
2013 CARLOS​ ​GARDEL​ ​79​ ​YEARS​ ​OLD​ ​-​ ​ARGENTINA
2014 TWIST​ ​SHOW​ ​-​ ​OK​ ​USA
2014 2nd.​ ​TANGO​ ​ARGENTINE​ ​CAMPANA​ ​FESTIVAL​ ​-​ ​ARGENTINA
2014,​ ​15,​ ​16 PROVINCIAL​ ​FESTIVAL​ ​OF​ ​TANGO​ ​ZARATE​ ​-​ ​ARGENTINA
2014,​ ​16 MAESTROS  DEL ​TANGO​ ​-​ ​ARGENTINA
2015 TANGO​ ​JOVEN​ ​-​ ​ARGENTINA
2015 FESTIVAL​ ​NACIONAL​ ​DE​ ​MUSICA​ ​POPULAR​ ​BARADERO​ ​-​ ​ARGENTINA
2016 SHADES​ ​OF​ ​TANGO​ ​DALLAS​ ​-​ ​USA
2016 TANGO​ ​MALAGA​ ​FESTIVAL​ ​-​ ​SPAIN
2016 SOMOS ​TANGO​ ​-​ ​ARGENTINA
2017 GRICEL,​ ​STORIES​ ​OF​ ​A​ ​LOVE​ ​-​ ​ARGENTINA
2017 CARLOS​ ​GARDEL,​ ​THE​ ​OTHER​ ​HISTORY​ ​–​ ​ARGENTINA
2018 SPIRIT OF SPAIN – USA & CANADA
2018 TANGO CALIENTE, with DALLAS SYMPHONIC ORCHESTRA – USA
2018 LETS DANCE – CANADA
2018 – Nora's Tango Week Festival – SF USA
2018 BLACK AND WHITE BALL – USA
2019 SPIRIT OF SPAIN – USA
2019 NEW ORLEANS TANGO FESTIVAL
2019 CHICAGO, LIVE ART SHOW WITH LA JUAN D'ARIENZO ORCHESTRA
2019 STOWE TANGO FESTIVAL
2019 INTERNATIONAL TANGO SUMMIT 2019
2019 BEN DE LA VEGA'S BLACK & WHITE BALL
2019 1st HOLIDAY TANGO WEEKEND
2020 STOWE VIRTUAL TANGO FESTIVAL
2020 2nd. HOLIDAY VIRTUAL TANGO WEEKEND with Amores Tangos Orchestra
2021 CHICAGO TANGO FEST
2021 "TANGO CALIENTE" with BUFFALO PHILHARMONIC ORCHESTRA, USA
2021 3rd. HOLIDAY TANGO WEEKEND – Dallas USA

2022 "HAVANA NIGHTS" with OREGON SYMPHONY ORCHESTRA – USA

2022 LADY'S TANGO FESTIVAL – BUENOS AIRES – ARGENTINA

2022 CITA – BUENOS AIRES, ARGENTINA

2002 13th FESTIVAL OF TANGO ZARATE- ARGENTINA

2022 WINDY TANGO FESTIVAL – CHICAGO – USA

2022 TANGO ON THE ROCK – DENVER – USA